There [Elijah] went into a cave and spent the night. And the word of the Lord came to him:
"

What are you doing here, Elijah

?"
He replied,
"I have been very
zealous
for the Lord God Almighty. The Israelites have rejected your covenant, broken down your altars, and put your prophets to death with the sword. I am the only one left,
and now they are trying to kill me too.
"

The Lord said, "Go out and stand on the mountain in the presence of the Lord, for the Lord is about to pass by."
Then a
great
and
powerful
wind tore the mountains apart and shattered the rocks
before the Lord, but the Lord was not in the
wind
.
After the wind there was an
earthquake
, but the Lord was not in the
earthquake
.
After the earthquake came a
fire
, but the Lord was not in the
fire
.
And after the fire came a
gentle whisper
.
When Elijah heard it, he pulled his cloak over his face and went out and stood at the mouth of the cave. Then a voice said to him,
"What are you doing here, Elijah?"
1 Kings 19:10-14
I opened the bedroom blinds, and spotting a lizard looking right at me, jumped like someone had thrown a popper at my feet. To my relief, the small reptile clung to the screen between the window and mesh. I thumped on the glass and got it to move upward toward an opening on top. Yet, the gray-scaled reptile refused to take the passage to freedom.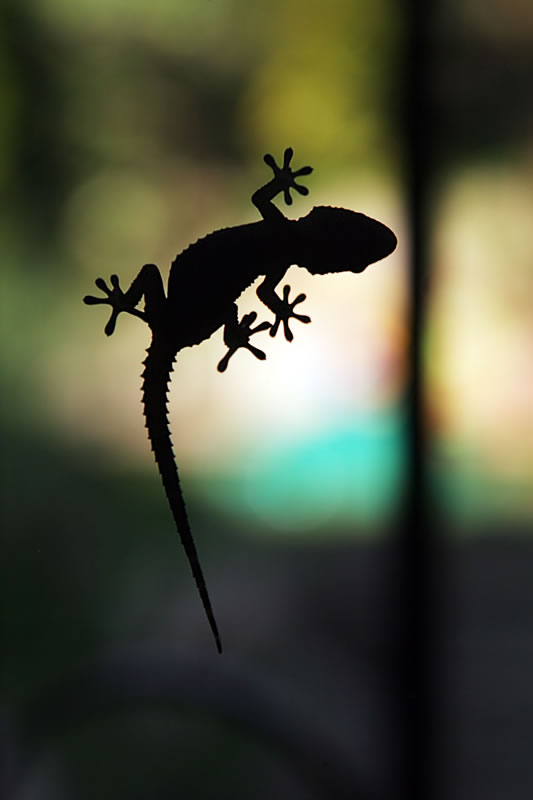 Scratching at my bed-head, I tried to think of ways to free the lizard when I noticed a black crow perched on a nearby oak. Head cocked, its glistening, onyx eyes focused on the prisoner.

Mystery solved.

The lizard, seeking refuge from the shadowy predator, could still see the outside world through the mesh screen, though unwilling to find its way out.

How often have I trapped myself in a refuge of my own making? My view of the world became distorted through the protective screen I hide behind? While my true refuge waits with open hands, calling me out of my self-made hiding place.
"Come near to God and he will come near to you." James 4:8 (NIV)
Father, help me to seek your shelter and not build up walls made of fear, doubts, and a false sense of security. Remind me to seek your refuge when life gets difficult.
May we always seek refuge in God's company
instead finding our own ways to protect ourselves.